As a keen farmer, Edwin Tucker had wanted to be involved in the seed business as he felt there was considerable room for improvement and with his wife Elizabeth Jane he acquired the Seed, Malting and Agricultural business of Mr. William Rolestone Whiteway of Ashburton, who had been trading since 1831. His legacy for supplying quality seeds to West Country farmers still remains the company's philosophy to this day.
Even though history shows there were many Malt houses in Devon at the time (many pubs had their own attached), the Maltings side of the business also fitted in well with Edwin Tucker's vision, as he was able to trade with his farmer customers by buying back their barley. One notable entry in Edwin Tucker's order book of 1859, found in the archives, was an order to supply grass seeds to Isambard Kingdom Brunel, presumably for use under the Tamar Railway Bridge completed in that year.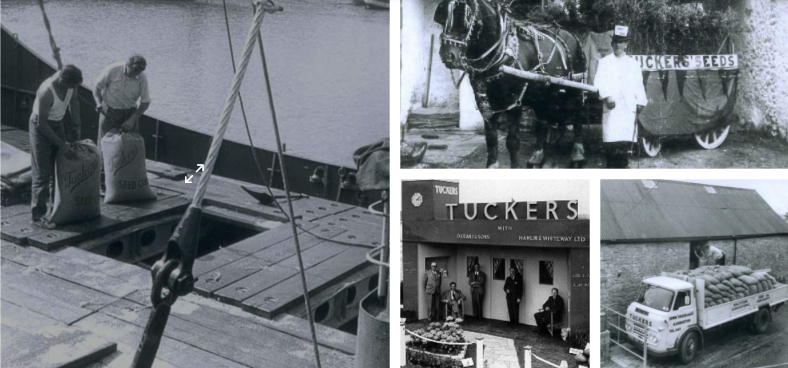 The Early Years
Most of the business in those early years was done through local markets such as Newton Abbot and Totnes but without a railway and any motor vehicles local meant anywhere that could easily be reached from Ashburton by the horse & cart. In 1869 efforts were made to build a railway from Totnes to Ashburton and Edwin Tucker was asked to join their Board of Directors. The railway eventually reached Ashburton in 1872 and in 1876 Edwin Tucker moved from his rented site in East Street to a new purpose built malting and store in Station Yard.
Edwin Tucker was later joined by three of his sons John Parnell, Harry & Edmund and together they continued to expand all sides of the business. It was eventually decided that a formal arrangement should be made to recognize all the family involvement and in 1899 Edwin Tucker & Sons Ltd became a registered company.
Information as to who Tuckers very early brewer customers were, are scarce, but two are referred to by Edwin Tucker's eldest son, John Parnell (or Parnell as he was generally known) in his autobiography. The first, Finch's Eagle Brewery in Exeter, remains fairly obscure and was later absorbed by a larger Brewery to which as we find out later he was to become Chairman. The other by sharp contrast, remains world renowned today and celebrated as the most famous Irish Stout producer of them all – Guinness.
A further 50 quarter malthouse, with three germinating floors and two additional kilns was added between December 1901 and November 1903. The Maltings as we know it today was finally complete and ready for full scale malt production.
During the years that followed as well as Ashburton & Newton Abbot, Tuckers also operated Maltings in Torquay, Crediton, Bristol and Bath but eventually all production was transferred to the new purpose built Maltings in Newton Abbot.
One of Tuckers larger malt customers was Heavitree Brewery of Exeter. When they became well behind with their payments Parnell arranged to meet their General Manager to discuss the situation. On his arrival in Exeter the manager was nowhere to be seen and it later came to light that he had fled the country. He was eventually tried and imprisoned for systematically robbing the company.
As a major creditor the brewery turned to Parnell to help them put the company back on its feet and he eventually became Chairman and the Tucker family are still very much involved in Heavitree Brewery to this day, although they are no longer brewing beer.
The Next Generations
There was not to be a third generation of Tuckers involved in business and after he had safely returned from the Great War it was left to Reg Andrews to run the operation at Ashburton. He was well known at the markets and had assisted Parnell Tucker before the war. The offices moved to Bank House Ashburton but the railway store remained.
In the early 1920's a Crediton branch was set up by Maurice Webber after his return from the Great War. The Horse & Jockey pub which also had a malthouse attached was purchased as an office and store. The Maltings were initially used for malt production but were later used as increased storage for the expanding agricultural and seed business. After the retirement of Harry Tucker, Tommy Wheeler took over at Newton Abbot Maltings.
Other companies were acquired by Tuckers in the years that followed, including the seed merchants Durants of North Tawton & Hamlin & Whiteway of Newton Abbot, but these were eventually absorbed into the main business.
Even though there are no longer any Tuckers involved in the business it still remains very much a family concern. Richard Wheeler followed his father Tommy in running the Maltings and both Maurice Webber's son Roy and grandson Jonathan have become actively involved in the business.
1960 – Ashburton office and store moved from Bank House to Brewery Meadow.
1970 – New seed store built at Brewery Meadow (Ashburton) replacing the store at Station Yard.
1981 – Crediton branch moves from the Maltings to Commercial Rd on the Lord's Meadow Industrial Estate.
Mid 1980's – Country Stores opened at both Ashburton & Crediton. They started from humble beginnings, a few pairs of welly boots and horse supplements on a shelf in the office and some growbags on a pallet in the corner of the yard. With increasing demand and changes within the agricultural industry both our stores at Ashburton & Crediton expanded rapidly during the late 1980's & 90's and instead of just being a small side line our Country Stores have now become a major part of our business.
1991 – The Newton Abbot Maltings opened to the public as a tourist attraction.